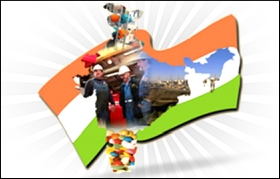 SME Times News Bureau | 12 Apr, 2010
Industrial output in February grew at a slower rate of 15.1 percent, official data showed on Monday.
The production in January was 16.7 percent.
The index of industrial production (IIP), which measures factory output, stood at 10.1 percent during April 2009-February 2010 against 3 percent in the same period of 2008-09, data released by the Central Statistical Organisation showed.
While basic goods grew 8.4 percent during the period under review, capital goods grew 44.4 percent. Consumer durables and consumer non-durables recorded growth of 29.9 percent and 2.3 percent respectively.
Manufacturing rose 16 percent from a year earlier while electricity output grew 6.7 percent. Mining output went up 12.2 percent.
India's annual rate of in inflation in February stood at 9.89 percent.
India' central bank, the Reserve Bank of India, hiked key rates last month by 25 basis points. It is expected to raise the rates at its policy review on April 20.
India economy is expected to grow 8.5 percent in the current fiscal and 9 percent in 2011-12 fiscal. Finance Minister Pranab Mukherjee has indicated the government could consider rolling back the stimulus measures further.